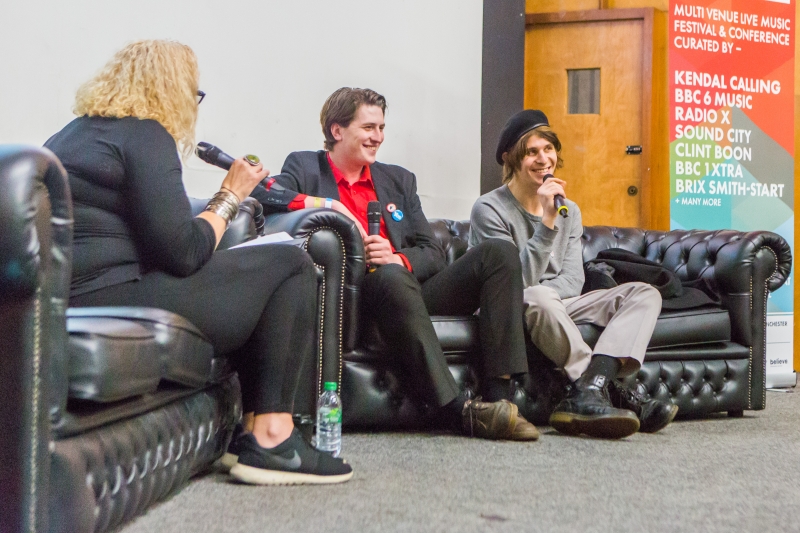 ANNOUNCEMENT - brand new additions to our conference line-up!
Posted – 0000-00-00
Tickets from just £19.25. Get yours here.

We are proud to present the second instalment of our Off The Record conference line-up, featuring a very special In Conversation with Bernard Butler, the gifted guitarist, songwriter and producer who made his reputation in the band Suede. In 1992 Suede's debut album Suede went to the top of the UK Album Chart – a moment considered by many as the start of Britpop, however, before the release of the follow-up, Bernard left the band. DJ/writer Dave Haslam talks to Bernard Butler about his inspirations and influences, his experiences with Suede and David McAlmont, the art of songwriting, and his recent work with the likes of Ben Watt, Kate Jackson, and Mull Historical Society.

Thinking Outside the Box: Getting Creative with Gigs will invite Ade Dovey (Head of Programming for Mission Mars), Ben Robinson (Founding Director of From the Fields) and Steve Vondy (Booker for Liverpool Sound City & independent promoter for I Love Live events) to discuss tips and tricks to make your gig stand out and get your audience engaged.

Exploring the Relationships Between Artist & Manager welcomes to the stage Jeremy Pritchard, bassist in Everything Everything (who've curated the entire line-up for Band on the Wall at this year's festival) alongside his band manager Peter McGaughrin. This panel will discuss the symbiotic relationship between artist and manager, and unpick the intricacies of this unique alliance, debating who benefits from who.

With more female industry professionals in high powered roles than ever, Be Inspired... A Celebration of Change will consider the positive reforms that the music industry has seen in recent years, and invite prominent players - including Shell Zenner (BBC Introducing, Amazing Radio), Becky Ayres (COO of Liverpool Sound City), Kate Lowe (Both Sides, Brighter Sound) and Tony Ereira (CPWM, Hatch Records) - to discuss the new schemes and initiatives in place such as Let's Be The Change, Both Sides Now, PRS for Music Foundation.

Make Money From Your Music Outside of the UK, presented by Nina Condron (Horus Music) will look at what opportunities there are for artists beyond the UK, looking to the global music market, covering publishing and distribution revenues, touring, how to enter new markets, and best practice when seeking out opportunities to generate revenue overseas.

It's no secret that getting your music placed in TV & Film can be a gold mine for musicians, you can make money both upfront and from your royalties and it's a great way to promote your music to wider audiences. In Managing Your Music for Film and TV, Muisc Gateway's Sophie Small will explain some of the best practices when it comes to managing your music to give you the best chance of success.

The Networking 101 workshop hosted by Daniel Fisher-Jones will teach you everything you need to know about how to get the most out of networking.

Join renowned Producer, Engineer, Composer and DJ Paul Nolan in DJ Masterclass: Top 10 Tips To Take Your Tracks From The Bedroom To The Club as he shares essential insights that will help you get your tracks out there into the world from your home studio. Covering tips from getting the right production quality, mixing, mastering and how to get your records signed, this is a session not to be missed for the aspiring DJ / Producer.

Whether you're just starting out in industry or well established, don't miss out on Manchester's best new music conference and showcase. Tickets here.